Visiting Mexico's Yucatan Peninsula, yet-to-be married adventurers Dana and David Krauskopf started playing with a crazy idea. What if they were to build a hotel… from scratch? Twenty-five years later Hamanasi Adventure & Dive Resort has evolved into one of the world's top eco-retreats. The resort holds a long list of honors: TripAdvisor Travelers' Choice Awards, Conde Nast Traveler's Readers' Choice Awards, The Boutique Hotel Award for Best Beach Hotel in the Americas, and an Eco Excellence Award.
That's the short story.
The goodness of Dana and David's journey comes by taking a deeper dive into how they made it happen.
Before purchasing an initial 21-acres of undeveloped property in southern Belize, Dana and David were cautioned by bankers, lawyers and the business elite of Belize City that failure was inevitable. The couple had no hospitality management experience and had chosen to build near the village of Hopkins. It was an area near void of tourism with a reputation for having a lazy workforce. Sustaining a thriving tourism business in Hopkins was viewed by most as a fools game.
In late 2017, my wife and I visited Hamanasi for a week of diving. By the end of our visit, I was compelled to track down the owners.
I wanted to learn how they had created such a top-notch customer experience — one that far exceeded any I had seen at other similar resorts.
Despite having over 145 staff members, we felt like welcome guests in the team's home. Our experience is best captured through Dana's description of how she thinks about Hamanasi. "If a friend or relative comes to my home and I know they prefer cream in their coffee, I make sure I have cream on hand. It's my way of letting them know I care. This is the experience we want every guest to have at Hamanasi. It's not just about responding to our guests' needs, but also anticipating those needs."
Our first "coffee-cream experience" came following our ride from the local airport. On the drive, our van load of guests engaged in a lively discussion about coffee. By the time we completed a relaxing two minute walk from van to hotel, the front desk staff was already briefed. Knowing of their new guest's passion for coffee, we were offered coffee makers in our rooms. We experienced this same level of service time and time again with team members radiating warmth, care and humour at every turn.
So how did Dana and David do it? How were they able to build a world-class team under circumstances most thought impossible?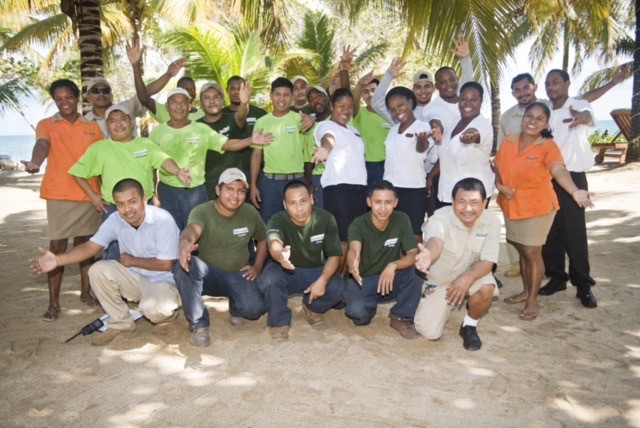 In conversation with Dana, I found five distinct, purposeful ingredients to their culture. They fall under the umbrella of genuine care. Care for team. Care for customers. Care for environment. Care for community. As I hear so often in conversation with successful founders, the Krauskopfs are not driven by a desire for excessive wealth. It's personal passion and strong values at the core of their business.
Lazy or Unskilled?
From the beginning, Dana and David disagreed with others' assumption that the people of Hopkins were lazy. Instead, they saw a village of good people lacking training. The Krauskopfs believed local residents would rise to the challenge given an opportunity to learn. They were right. 85% of the original 30 employees came from the local community. Nine of those are still with Hamanasi today.
Hamanasi takes training seriously, placing a heavy emphasis on staff development. Every new team member completes a robust onboarding program including award-winning customer service training. That same customer service training gets repeated as a refresher every two years. The team works with Antonella Moroni, a former business consultant. Antonella provides ongoing training and one-on-one coaching to the Hamanasi team. She teaches the practice of Mindfulness and how its fundamental principles can be applied to foster clear communication, open collaboration, positive conflict resolution and effective decision making.
Every team leader also receives training based on John Maxwell's book The 21 Irrefutable Laws of Leadership. Chris, a young Mayan man who started at the resort as a beach-raker, was recently promoted to be the leader of the beach-raking team. He received the same leadership training as every other manager at Hamanasi.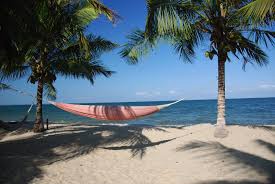 This investment in education has an added benefit — an ever increasing sense of personal pride. Many team members don't have a lot of formal education or global exposure. Through Hamanasi training programs they become genuine experts working at an award-winning resort. Marcia, one of the Krauskopf's first hires, started off as a cook. She has since been certified by Johnson & Wales and the Culinary Institute of America and had the pleasure of preparing a meal for Britain's Prince Harry as part of Queen Elizabeth's Diamond Jubilee celebration.
Dana has an opportunity to speak at an annual team gathering. Each time, she shares her leadership perspective. "As leaders at Hamanasi, we see our job as treating you well, training you well, paying you competitively, and helping you be someone other resorts want to hire. At the same time, we aim to create an experience that leads you to want to stay with us and be part of this team."
Building the Team
The Krauskopfs initial recruiting process was simple. They posted fliers in the community and set up a table on the beach where locals could apply. Beyond the most basic of application forms, Dana and David sat and talked with people. Unless specific skills were a necessity, such as dive-master certification, their focus was on personality. "Is this a person I would enjoy being around?" Much of the kitchen staff, for example, had never cooked outside of their homes before joining the Hamanasi team.
Hamanasi is now a bit more selective on skills and experience, but still hire young, personable, untrained locals too. It's Dana and David's belief that, "sometimes it's better that way."
Since day one, the Krauskopfs have maintained high ethical standards. Hamanasi never actively poaches employees from other hotels. If someone wants to work for Hamanai, they need to apply directly.
Setting Expectations
Hamanasi is demanding in the expectations it sets with the team. This is especially true for customer service orientation, which doesn't always come naturally for new team members.
As part of its onboarding program, rules get explained and expectations set. In Dana's words, "We go over the normal nuts and bolts you would anticipate. We also explain that we are a hotel and an eco resort. We are bringing guests into our home and our job is to provide nothing short of 'experiences of a lifetime'. We train the team on our own customer-service method known by acronym GKLAA. GREET the customer. Get to KNOW them. LISTEN. ACT. ANTICIPATE."
Guest comment forms get consolidated each month to help keep a pulse on how the team is doing. The comments get sorted into the good, the bad, and the ugly.
So what happens when team members fail to live up to Dana and David's expectations? The Krauskopfs return to their core philosophy: care & train. Managers talk to those who need to improve. A lot of coaching and guidance is provided to help people along. This often takes time. Dana shared Kim's story as an example. Kim was a server in the hotel restaurant. Her performance oscillated. She had good mood days and bad mood days. Her managers kept working with her and the investment paid off. Today Kim is a restaurant supervisor.
Feedback, Feedback and More Feedback
When I contacted Dana to research this article, she welcomed the opportunity to speak. For Dana, it was an opportunity to get feedback from a previous guest. She was keen to know what I thought they could do better. Her follow up email ended with, "Should you have any additional comments, positive or negative, please pass them along. Criticism is how we improve!"
For the Hamanasi team, feedback is fuel. As Dana explains, "I love when customers give us feedback… without it, we're blind. For example, our restaurant servers spend their time standing by tables and looking down. They see the table in a certain way. Our guests see things from a different perspective and it's that perspective we need to hear."
Comment cards are just the start. Two days after arriving at Hamanasi a resort team member approached my wife and me. With clipboard in hand, she asked us a series of questions to see how the team might improve our stay. They asked us for more feedback before leaving the resort.
Human Connection
It's clear that Dana and David's intent is genuine. In Dana's words, "we want our guests to feel we are inviting them into our home and they are part of our family. It's about genuine human connection. I can treat you as a human, you can treat me as a human."
While writing this article I've come to recognize the single defining element that separates Hamanasi from other resorts. The team at Hamanasi was there to serve me, but not to be my servant. The distinction may seem minor, but the onsite experience profound. Every member of the team stood tall, spoke with confidence, and served with pride.
As I dug deeper into this idea with Dana, she explained, "We encourage our team to get to know our guests, to talk with our guests. We want them to interact and to share their personal stories… it's a powerful thing."
I shared with Dana how I had had a lengthy conversation with a member of the front line resort team. Throughout the discussion, I never got a sense he was fearful of getting in trouble for not doing his job. Dana's response: "He was doing exactly what he should have been doing at that given moment. There was no where else he should have been."
Dana and David have a deep desire for their employees to respect customers as real people and not just wealthy transients. They want guests to respect the team too. When that healthy human connection develops, so does a sense of pride within the team. It leads everyone to think about how they can make others' lives better. It starts to shift their outlook from "it's my job" to "it's the decent thing to do, the thing I want to do."
Dana and David's greatest sense of satisfaction comes when their staff gets commended. It's the joy of proving that the original doubters from 20 years ago were wrong.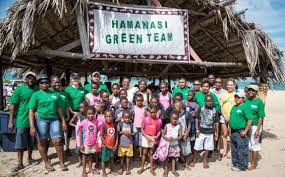 To learn more about Hamanasi, visit the resort's website at www.hamanasi.com. While you are there, make sure to visit the Community and Sustainability sections of the site. The Hamanasi team is active in the local community. In 2017, Hamanasi gave over $28,000 to various local charities and initiatives, not including many in-kind gifts by both guests and the resort. They also house visiting veterinarians when they donate their time to the Hopkins Belize Humane Society.
To learn stories of other entrepreneurs and the radical ideas they are using to grow their businesses, visit www.reinventingscaleups.com.