Ben & Jerry's, Etsy, Patagonia, Ecosia… wait… who?
For every celebrated purpose-driven business, there are thousands of companies working hard to do their part with little fanfare. Ecosia is one of those companies.
On a recent trip to Berlin, I journeyed into the heart of the city and to a nondescript collection of buildings with a small Ecosia sign street-side. Few who travel the cobblestone street would have any idea that within the labyrinth of offices sits a unique social enterprise responsible for planting close to 18 million trees. Ecosia runs a web search engine founded by CEO Christian Kroll eight years ago. The company now powers over 175 million web searches every month, dedicating 80% of its profits to supporting tree planting programs.
My goal in meeting with Christian and his colleague Philip Baumann is to pull back the curtain and see how this purpose-driven company operates. How exactly do Ecosia's 24 team members prosper while balancing business realities with a strong purpose motive?
As you might expect, Ecosia's office has an earthy, casual feel. My first reaction upon arriving: "Who wouldn't want to work here?" After a quick tour we settle around the company's ping pong table and invest time getting to know each other.
Christian's story starts in university. While completing his studies in business administration, he was disappointed to learn most people saw profit-making as the only valid objective for a business. As his schooling came to an end, he decided he wanted to do something more meaningful with his energy and embarked on a year-long trip exploring the world. During his travels he learned about the important role of trees in our planet's survival. He returned from his adventure and started Ecosia in December 2009.
Since Christian's only business experience comes from leading Ecosia, he's learning as he goes. He is open about his leadership journey and his aim to serve the team in a way that avoids a rigid management approach while also preventing the company from devolving into chaos.
Our 90-minute conversation spanned a long-list of topics. Here are my biggest take-aways:
Self-Management: For the most part Ecosia operates using a self-management philosophy, prioritizing principles over rules. What, exactly, is self-management? Every day the Ecosia team works to further define their own answer to this question. Rather than being a destination, they see self-management more like a way of being. They've come to learn that operating in this way requires a certain level of maturity to embrace heightened levels of responsibility.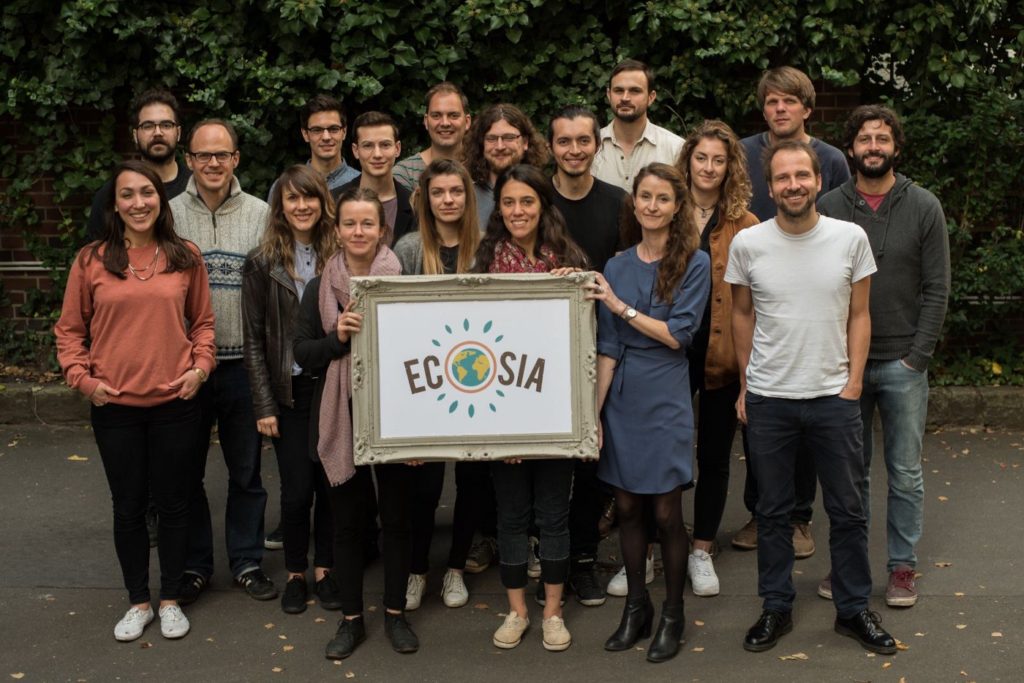 Christian's Role as Leader: Christian sees his role as being similar to a sports coach. He aims to serve his team without unnecessarily stepping into the game. To help distribute authority throughout the organization, Ecosia relies on governance records to make things explicit. Christian is honest in saying, "In some circumstances I just don't know how to coach so I end up telling people what to do."
Decision-Making: Ecosia is continuing to mature their use of the Advice Process for decision-making. Through their experimentation with the process, they've come to appreciate the importance of being clear on decision ownership. Still, they find they drift into consensus mode too frequently and often the team just wants someone with adequate authority to make a decision.
Recruiting: Recruiting at Ecosia is not democratic. Each hiring decision has an owner who has ultimate responsibility. After a candidate interviews at Ecosia, the team holds a quick stand-up meeting where everyone is invited to share their thoughts and feelings about the candidate. Tuning into their gut is encouraged. It's OK for participants to ramble on as a way of sorting through their thoughts.
A Cool Perk: Every member of the Ecosia team has the opportunity to travel to one of Ecosia's tree planting projects. It's an opportunity to keep the social enterprise aspects of Ecosia's work present for everyone.
To learn more about Ecosia and other companies experimenting with different ways of working, check out Reinventing Scale-Ups: Radical Ideas for Growing Companies available on Amazon.